In the early days of collecting, the majority of Vintage carded collectors had no real interest in Trilogo cards. They were considered by most to be generic, boring and cheap looking. In fact, most European items were quite often overlooked by collectors right up until the late 1990's/early 2000's.
As time went on, things changed (thankfully) and most of the previously shunned European products began to rise in popularity with collectors, Trilogos included.
One major reason why Trilogos became more popular is due to the fact that when compared to their Kenner counterparts, Trilogos seemed to be immune to yellow bubbles! That's not 100% true of course but in the majority of cases, Trilogo bubbles do tend to stay clear (even to this day).  The chance to finally display ROTJ figures with clear bubbles in a collection is something many people loved about Trilogos.
Another reason why they became more sought after is that the Trilogo card is one of the only packaging designs that almost all the figures can be found on. This is great for those seeking a "set" as it's not possible to get a complete set of figures on SW or POTF cards for example but on Trilogo cards, you can almost have a full set of Vintage figures in identical packaging which looks very uniform on display.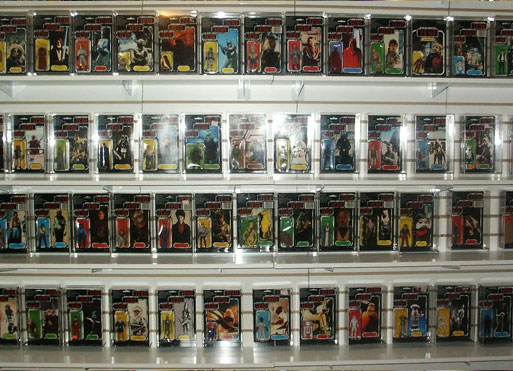 Cost plays a factor too of course and the relatively low cost of a Trilogo compared to other releases (Yak Face Trilogo VS Kenner POTF Yak Face for example) makes it easier (and cheaper) for collectors to put together a decent amount of figures on a budget. 
There was a steady increase in activity in the Trilogo world from 2000-2005 but Trilogos were suddenly shot to fame in 2006, when a French collector by the name of Stephane Faucourt released a book entitled "From Meccano To Trilogo" which featured an entire section dedicated to Trilogos. 
Due to Stephane's efforts Trilogos were "cool" again and many other knowledgeable and dedicated collectors on collector forums appeared to share their Trilogo knowledge and findings. In the years following on from Meccano To Trilogo, more and more figure focus collectors seemed to turn to Trilogos as a way of adding to their collections in the form of the many different Trilogo card variations out there.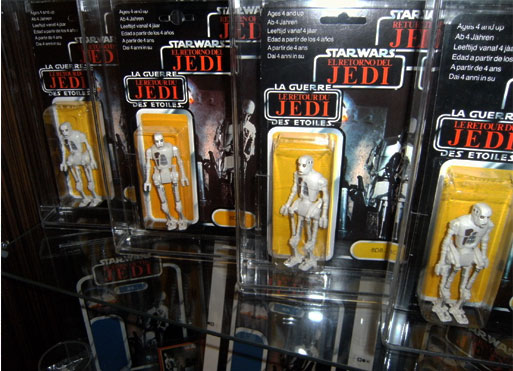 As you can see, Trilogos have definitely gone from being bargain bin figures to cherished collectibles enjoying the high life of acrylic cases and Ikea cabinets.